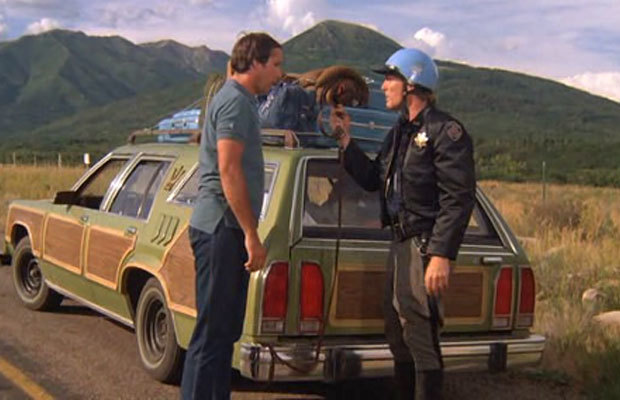 A memorable scene from "National Lampoon's Vacation"
from Warner Bros. Pictures.
No. No. No. Do not do it.  Do not think about doing it.  Do not allow a fellow handler to do it or think about doing it.  Do not take your police dog on vacation.  This reason might sound like a National Lampoon movie that shows a scene like the one above – but, it's not funny and it could get you in trouble.
I'll admit that nothing much shocks me nowadays, but I was surprised again to recently hear about a few handlers still taking their police dogs on vacation.  I know a few who've done it.  They go to the lake, the river, the beach, and the mountains because, after all, it's the family pet, right?  Wrong.  Nothing bad will happen, right?  Wrong.  Police dogs have accidentally bitten others while on the family vacation and those accidents are most always viewed as negligent acts. I recently read numerous Facebook posts where handlers admitted to proudly taking their dogs on vacation and shared photos – and other handlers said "No way!"
If your police dog bites someone while you are on vacation and you get sued and are found at fault, your agency may not cover your punitive damages if they are accessed because;  1) You were not on duty when the incident occurred, 2) You were acting outside the scope of your duties, and/or 3) You acted outside of policy.  Is it worth the financial and emotional risk?
You know the responsibilities and liabilities associated with a police dog on-duty. Nothing changes off-duty except there might be more opportunities for accidents and mistakes because the handler is busy relaxing and enjoying vacation, not worried about the potential interactions with others. Why take a chance? Enjoy your vacation – leave your police dog at home. Let your police dog have its own vacation – away from you.
If you absentmindedly and irresponsibly take your dog on vacation and it can "access" others – never, never, never consume alcoholic beverages – not one, not two, not a twelve-pack. Are you fully functioning and able to make good decisions while under the influence or drunk while your dog proceeds to bite a bystander? How will it look? What will your supervisors think? What will a jury think?
I heard a story once about a handler who took his dog on vacation and shared photos of the dog on a boat at the lake on social media. The lieutenant saw the photos. The lieutenant went ballistic.
On one incident that I was asked to review, I quickly determined the agency did not have a policy to address vacations or extended time off. You might think "common sense" would prevail but you know better, don't you? You must have policy. Here are four sections that I copied from the Lexipol K9 policy [in 2016] with respect to being off-duty and accessible to the public;
When off-duty, police dogs shall be maintained in kennels, provided by the police department, at the homes of their handlers. When a police dog is kenneled at the K9 handler's home, the gate shall be secured with a lock. When off-duty, police dogs may be let out of their kennels while under the direct control of their handlers.
When off-duty, K9 handlers shall not involve their police dogs in any activity or conduct unless approved in advance by the K9 Unit Coordinator or Shift Supervisor.
Whenever a K9 handler anticipates taking a vacation or an extended number of days off, it may be necessary to temporarily relocate the police dog. In those situations, the handler shall give reasonable notice to the K9 Unit Coordinator so that appropriate arrangements can be made.
All police dogs shall be kept on a leash when in areas that allow access to the public.
It was our policy during my time that all handlers notified the K9 supervisor (sergeant) or K9 coordinator (corporal) when they took a vacation or extended days off if they would not be providing care for the dog and submitted for approval the proposed location of the dog and caregiver for that time period. If "vacation time" was taken and the handler stayed home during that time period, it's a different story – but the notification still needs to be made.
I have not shared any actual photographs of police dogs and their handlers on vacation in order to protect the guilty. You might be thinking this issue is a no-brainer – and you would be right – there's some handlers acting as if they have no brain and it could get them in trouble.
Take care, be safe and enjoy your vacation without your police dog…
Bill Lewis II
This "reason" was originally shared on April 6, 2016.
"Trouble" isn't always related to incidents or predicaments that directly result in lawsuits, claims or discipline. Often times, our actions or inactions that are missed, deliberately overlooked or downplayed may lead to nothing or can later lead to mistakes or bad incidents with minimal to serious repercussions. A reason we get in trouble can be minor or simple at first glance – or even serious – but a combination of these factors can often have disastrous consequences.
These "reasons" are provided periodically as a collection in-progress based on actual incidents and real attitudes as well as feedback received at HITS, the CNCA Training Institute, and the "Canine Liability 360" classes. As Gordon Graham says, "We haven't found new ways to get in trouble." So, as the list progresses, you may or may not read something familiar to you that you have personally experienced or seen others encounter. If you encountered or heard about it, did you learn from it?